Cafe Breakfast in Pensacola Beach
Serving Breakfast until 12:30PM Daily
(Oct - Feb until 11:30AM)
They say that breakfast is the most important meal of the day and who are we to argue? Start your day off right with an energizing cafe breakfast on Pensacola Beach. We offer a variety of dishes made from locally sourced ingredients focused on making you feel great and ready to face a relaxing trip to the beach or a productive day in the office.
Snag one of our hand-crafted bagel sandwiches or grab a golden-brown biscuit with your choice of protein and a generous portion of cheese! Our biscuits are served all day so you don't have to worry about choosing between breakfast or lunch. If your not a breakfast person try sampling one of our other fine dishes instead!
Pastries vary by season. Call for confirmation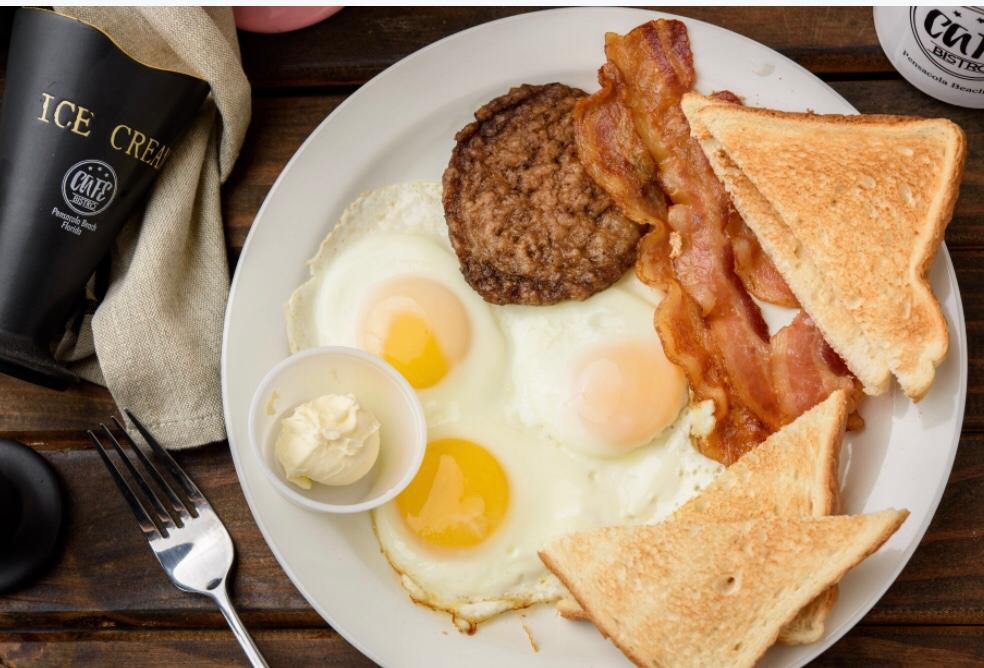 Can't face the day without some heart healthy eggs for breakfast?
We have a plethora of egg dishes to choose from because we love eggs as much as you do! If our 3 egg omelettes have left you hungry, don't worry. Each one comes with an order of hash browns, toast, and salsa! You can also choose one of our egg platters to get 3 eggs made your way accompanied by bacon, sausage and toast. Don't forget to checkout our vegetarian options made with fresh spinach, mushrooms, bell peppers and vine-ripened
tomatoes.
Prefer to satisfy your sweet tooth in the morning?
We've got you covered! Covered in powered sugar and whipped cream, that is. Try our selection of scrumptious, fluffy pancakes topped with your favorite fruit and a dollop of whipped cream. Feel like treating yourself even more? Then get your short stack with some chocolate mixed in. It's the best cafe breakfast on Pensacola Beach!
With the exception of our biscuits, our breakfast dishes are available until 12:30 so you can swing by
and enjoy breakfast on Pensacola Beach no matter when your day starts!